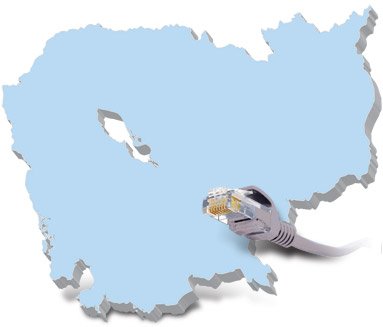 About 32 kilometres outside Phnom Penh stands a public secondary school that is one of the small, but growing, group of government-run schools in the Kingdom connected to the internet. Thet Visith, a grade 9 student at Samraong Leu high school in Kandal province, said he is only able to use the internet for two hours a week, but he is still grateful for the free use of online resources. "It is good to have an internet connection at my school because I can look for interesting news and gain new knowledge easily," he said.
E-learning, as the process of getting knowledge and skills through digital sources is called, can bring educational material from around the world directly to students is places that are otherwise isolated. In the 21st century, it is one of the most powerful tools that a person can have for learning, but in Cambodia there are millions of students who go to schools with no internet access at all.
It's already been 14 years since the first computer user sent a message over the internet, to their counterpart in California, but the reach of the internet is still very limited in the Kingdom. Due to a lack of electricity, digital infrastructure and technology education, students in remote areas of Cambodia struggle to connect to the internet at all, let alone use it regularly as an academic resource.
According to data from the Ministry of Posts and Telecommunications obtained received earlier this month, the Kingdom had 291,589 internet subscribers out of 14.8 million people total, just under 2 percent of the population, not including people who access the internet through cell phones or other mobile devices. According to these statistics, internet penetration in Cambodia is one of the lowest in the world, and well behind the average in Asia, 21.5 percent, and the world average, 28.7 percent.
The students at Samraong Leu secondary school are able to utilize the internet thanks to Japanese Asia Pacific Technology, as part of a Research and Human Development project. Project manager Tuy Lay Veasna said they are working with hospitals and high schools in Kandal province to promote the use of the internet in education and health services (E-health). He added that the project is in its pilot phase, but he hopes to get more funds to expand the initiative to other remote areas of the country.
Ean Savy is one of the few public school teachers in the Kingdom who teaches computer classes, but she said many of the students at Samraong Leu secondary school aren't benefiting due to a lack of English skills or familiarity with technology.
"People in remote areas do not know what a computer is, and some are even afraid of computers," said Chea Sok Huor, the project manager for iReach (Information for Rural Empowerment and Community Health), a project with 10 centres in Kep and Prey Veng provinces, funded by the Canadian government, which provides the internet to students and residents in those areas so they can stay educated. "Bringing the internet to their areas helps them understand more and know where they can get the information they need."
With the aim of helping children learn through creative exploration, CAMBODIA P.R.I.D.E., founded in 2005, is another organization looking to expand internet access in Cambodia. The Reaksmy Primary School in rural Preah Vihear province is their main focus, and so far they have given more than 300 students regular access to computers and the world-wide-web.
Despite the stated mission, student explorations aren't completely self-guided. "We don't allow students to use the internet independently because there are many things both positive and negative in the internet world," said Svay Pearak, an English teacher at Cambodia P.R.I.D.E whose students are learning to learn through the internet.
Once students get to university, the internet is essential, said Hor Sokpolyne, an 18-year0old sophomore studying at the Institute of Foreign Languages, but she isn't sure how crucial it is for younger students in rural places. "I wonder if the internet provides better standards of living to people in remote areas if there is still poor electricity in some places," she said.
This is exactly the situation that Pen Sokun, the director of Damnak Ampil secondary school in Kandal province, faces in teaching his students to use technology. "I have only two computers running on solar power for more than 300 students. It is not enough," he said. Only with more computers, and more teachers who can train students, will he be able to properly teach technology to the students at his school.
1997

First computer in Cambodia with full-time internet connection.
Two commercial Internet Service Providers (ISPs) started to offer services

2003

The Asia Foundation launched a network of 22 Community Information Centres, within two years they had half a million visits.
.kh Domain names are made available by Ministry of Posts and Telecommunications.

2004

The Open Forum of Cambodia made Khmer fonts, a Khmer software application called Moyura, and an all Khmer operating system available to the public
By: Dara Saoyuth & Cheng Lita
This article was publish on LIFT, Issue 58 published on February 16, 2011